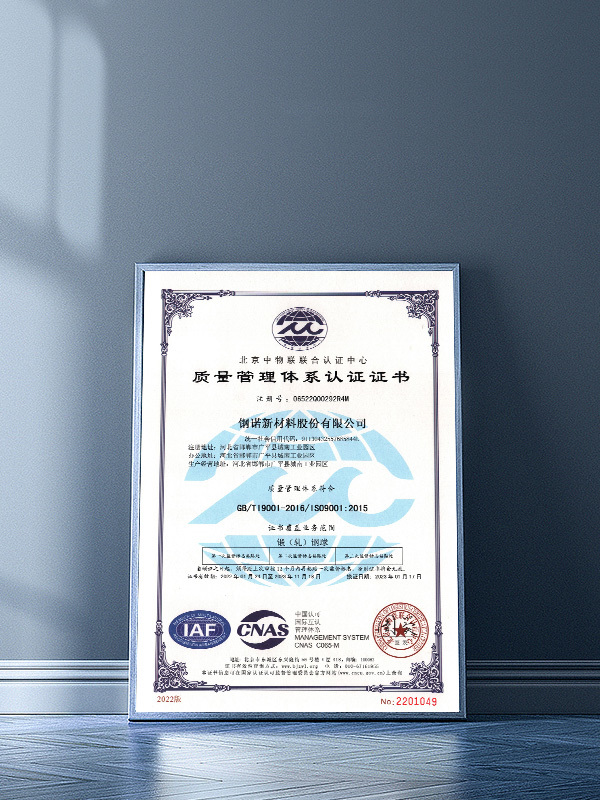 Strictly implementing the GB/T19001-2016 idt ISO 9001:2015 system, we have established a comprehensive product control system, product quality testing system, and product traceability system.
We have internationally authoritative quality testing equipment and testing standards that comply with the CNAS (China National Accreditation Service for Conformity Assessment) certification system; The testing standards can be fully compared with SGS (General Standards Company), Silver Lake (Silver Lake, USA), and Ude Santiago Chile (University of Santiago, Chile) laboratories.
The concept of "three complete"
The "three complete" quality concept includes: comprehensive quality management, whole process quality management, and all staff participation in quality management.
---

Quality management is everywhere.
Quality management not only includes product quality, but also needs to comprehensively consider factors such as cost, delivery time, and service, which is truly comprehensive quality management.
---

Whole process quality management
Without a process, there is no result.
Comprehensive process quality management requires us to attach importance to every aspect of the value-added of the enterprise value chain, in order to ensure the final quality results.
---

Full participation in quality management
Quality management is everyone's responsibility.
Everyone should attach importance to product quality, identify problems in their work, and make improvements, taking responsibility for the quality of work results.

The concept of "Four Everything"
The "Four Everything" quality concept includes:
Everything is for the sake of the customer, everything is prevention oriented, everything speaks with data, and all work is carried out in a PDCA cycle.
Everything for the sake of customers:
We must prioritize customer requirements and standards, and establish the concept of customer first;
Putting prevention first in everything:
We are required to establish the concept of prevention first, prevent problems before they happen, and eliminate problems at the budding stage;
Everything speaks with data:
Require us to use scientific methods to collect and analyze data, trace the root cause, and identify the essence of the problem;
All work is carried out in a PDCA cycle:
We are required to never be satisfied, keep improving, and use systematic thinking to achieve continuous improvement.